Karting...
Keep your Kart Fast and Furious with our
Full range Range of High Tensile Fixings
for Serious and Fun Karts and Kart
People...

Choose from our Massive Range of:-
Hex High Tensile Socket Screws -
British & DIN Standard Bolts from as
little as 7 pence each, Available in
Plain High Tensile Steel, Plated or
Stainless.
Steel Hex Spanner Head Bolts & Sets.
Studding.
Plastic and Steel Washers.
Plain Flanged Nuts & nylon
Lock Nuts.
Spring Kits
Circlip & E Clip Kits
Quality & Value
We Import & Distribute Only High Quality Hex Key Screws. Box Quantity / Stock Orders Available at Discounted Rates. Delivery & Top Up Available to Local Stockists on Account. Spares Kits can be Made to Your Specific Requirements. Call for further info.
Modern Screws Ltd.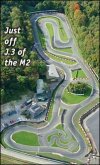 Kart Shop / Suppliers & Re-Sale Enquiries Most Welcome